Work on the roughing has continued and new problems continue to popup. Luckily, the bugs are only in the difficult code- not the very difficult offsetting code. It turns out that I was getting bad contours like the ones below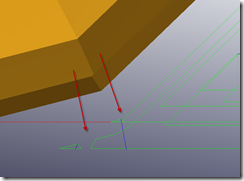 I thought the offsets were the problem so I wrote a bunch of code to begin a proper 3D engine rather than the simple graphics system I've had for a while. I thought this would give me more options to visualize the massive amount of data generated internally by the offsetting code. Turns out to be a problem in the code to trace the outline of the geometry. That bug can be seen below-

The arrows show where the data is corrupted. It'll take a while to figure out but I was hoping to find some bugs in this code; it worked too well from the beginning and that is always the sign of impending doom.
The time spent on the new engine should payoff big in the future since I can add more stuff to the 3D window without any effort. The new commands I've got in mind will benefit from this greatly if I can just finish the roughing code and move on.
Debugging the tiny details like those above forced me to look into the poor 3D behavior of MeshCAM at high zoom levels. I was able to increase the maximum zoom by a factor of 10. I'll try more when I get more time.
A while ago I added an antialiasing option to the 3d window for users with higher powered graphics cards. It quit working when I got a new laptop with an ATI Catalyst graphics card. It turns out that my method seems have been marked "deprecated" at some point so I have to look into that soon.
My new laptop came with a bad video driver under XP (shame on ATI and Lenovo) so I had to upgrade to a Windows 7 release candidate. I can say that MeshCAM works flawlessly under that OS so I don't expect any problems when it's released later this year. For those readers who hate Vista, I think you'll like Windows 7. The performance is great and it looks nice.
Finally, I was answering an email tonight and I noticed that MeshCAM turned 5 years old in April and I didn't notice. Thanks to all of the users that have been with me over the years.